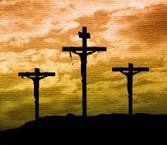 An Easter Makeover
As we approach Easter let us dwell on the privileges we have as Christians.
His entry created an uproar in the city of Jerusalem, "Who is He?"  The people asked.
Two thousand years ago this Man lived here. He was brutally tortured and mocked as "King of the Jews" with a crown of thorns placed on his head.  He humbly walked to his death for us – to save us from the slavery of every day sin – greed, pride, self-centredness, hatred, arrogance, unforgiveness etc. He defeated death and bought us freedom and salvation.
He is waiting for us to seek Him to help shed all of our ugliness and be clothed in love and kindness. In this season of  lent us reflect on who we really are. And bring about a makeover this Easter so we as his followers stand out in a crowd, just like Jesus did during his life here on Earth.
Join My Mailing List!
Would you like more information about this book?
Please fill out the form below so that I can add you to my email distribution list.
I thank you in advance for your interest!
[easy_sign_up
title="Mailing List"
fnln="1"
esu_label="Author Mailing List"
esu_class="your-class-here"]